31 October 2021 is the date of Halloween. Halloween is a corruption of the English 'All-Hallow-Even', meaning All-Saints Eve. Thousands of years ago, the Celts (Ireland) celebrated New Year's Eve on 31 October. They believed that on that night, the spirits of the deceased visited their former homes. The hollowed-out pumpkin with the light inside and the creepily dressed children are therefore the symbol of the 'wandering soul'. The festival was brought to America by Irish immigrants in the 19th century, where it is still widely celebrated. Roman Catholics celebrate All Saints' Day on 1 November. The day after, All Souls' Day, the deceased are commemorated.(Willem Wever)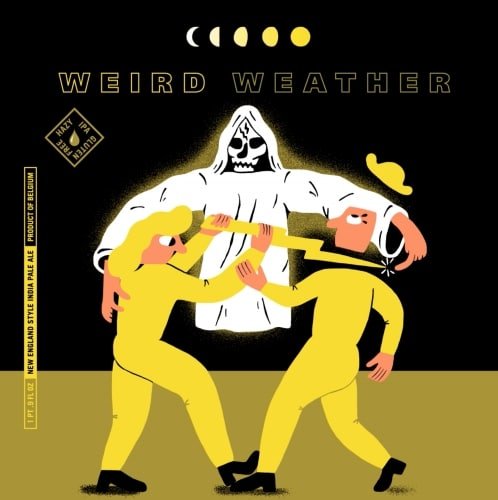 This Weird Weather IPA is not really cosy, with on the label two men, one of whom seems to be decapitating the other with a lightning bolt... Both embraced by a ghost. But that doesn't make it any less delicious. The aroma of this IPA is nice and full and fruity. The beer is cloudy and contains a nice layer of foam which disappears after a few minutes.
With its fresh hop flavours, this IPA finds the delicious balance between fruity tones on the one hand and hop flavours on the other. The rating of Mikkeller's Weird Weather Hazy IPA does not lie, no less than 3.31 on Untappd. I really recommend it. The IPA is with its 0.3 percent alcohol a beer in the category alcohol poor. Looking for a nice beer for Halloween? Then this is definitely a must, with this creepy label your guests will definitely be in the mood.